Corporate Reporting & Brand Stewardship
At Dickenson, we believe that the credibility, confidence and perception of an organisation can be enhanced significantly through a well-crafted Corporate Reporting & Branding strategies.
The Annual Report has evolved from a simple financial report to a dynamic marketing and brand-building tool that is the bedrock of any Investor Relations effort. At Dickenson, we feel that the elements of a good Annual Report include a clear and focused message, good writing, compelling visuals and high production values. Backed by our in-house Investor Relations and Financial PR Consultants, our ability to research and author 'Management Discussion & Analysis', the messages from a Chairman, Managing Director or the CFO, among others, gives us a unique edge in this arena.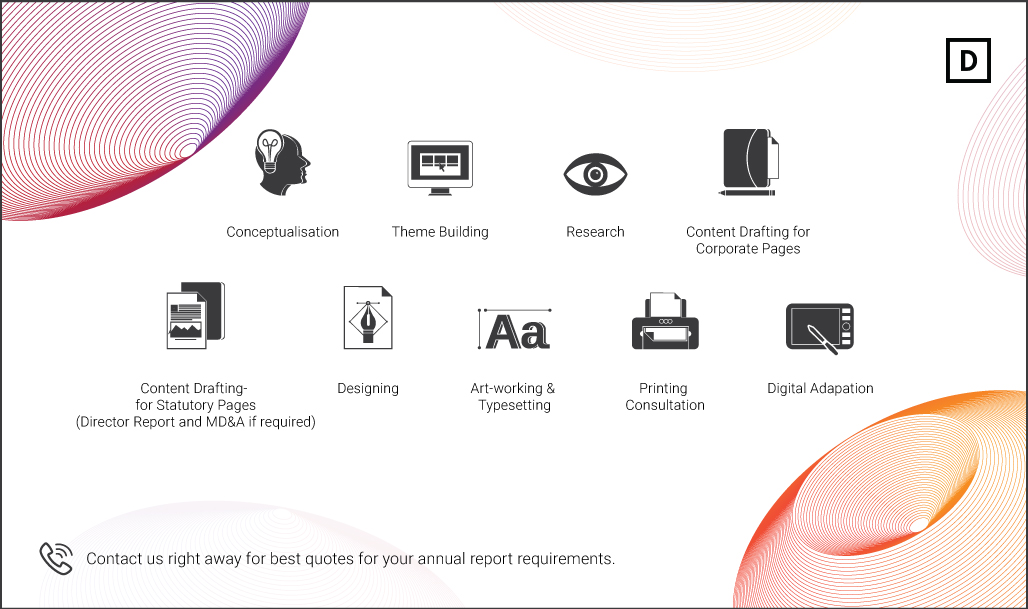 We excel in providing our clients with turnkey solutions, that includes all aspects of an Annual Report's production, including contemporary design, content creation, photography, theme development and printing services. We strongly believe that with our approach, the Investor Relations Officer, the Corporate Communications Manager and the Company Secretary can achieve optimum results.
We understand how a brand communicates with different audiences at different times and why a harmonised communication strategy is so vital. Recognising the importance of a consistent identity and message, our Brand Stewardship services set the standards for all print and digital collaterals (including entire websites), that are well matched with the company's brand culture. This includes the production of manuals for soft, online and hard copy usage, brochures, bespoke power point presentation templates, report covers, press releases, publications, event collaterals and large format displays.


Bringing your successes and strategies to life, in an Annual Report that is visually engaging and informative.

Our unique ability to carry out research, author and design, all under one roof, allows us to be a competent and confident turn-key creators of your Annual Report.

Take a look at how we have produced Annual Reports; Sustainability Reports; Websites and Investor Presentations, across multiple types of mandates.